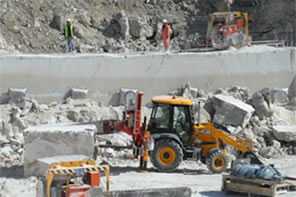 CUBIGRANI is an extraction, transport and trade company of granites.CUBIGRANI - Exploitation and Extraction of Granites, Unipersonal, Ltd., is the continuation of the company Abel Paulino Granites, Ltd.
With its vast experience in the sector of granites, it is a company which already has high standards and references of its products both in the National marketand in the International one.
This experience lasts at about 25 years. This company has its installations distributed by the district of Guarda, divided by the villages of Manigoto and Algodres and it still possesses a branch office in Brazil.